Frequently Ask Questions
1. When do I apply?
An advertisement will be placed in the leading newspapers on January 03, 2021. Students can apply through an online application form. Those who are unable to fill-up the online application form can download the application form from our website and send it back by March 03, 2021 to the 'Director, the IBA National Talent Hunt Program', IBA Main Campus, Karachi
2. What is the duration of the Orientation Program?
The Duration of the Orientation Program is two months from June - July 2021
Aptitude Test of BBA/ BS programs for Fall 2020 admission:
- Round No. 2: TBA
Aptitude Test of BSCS/ BS-EM for Fall 2020 admission:
- Round No. 2: TBA
For more details, visit the admission website:
https://admissions.iba.edu.pk/undergraduate-fall2020.php
3. Who can Apply?
Following students are eligible to apply in the NTHP Program 2021:
HSSC LEVEL - I:
Students who have been promoted from HSSC-I to HSSC-II without exams as per government policy can apply provided that they have secured 70% or above marks in their matriculation exams conducted by Board of Secondary Education of Pakistan in the year 2019 and will be appearing for HSSC-II examinations in the year 2021.
HSSC LEVEL - II:
Students who have been promoted based on their HSSC-I results can apply provided that they have awarded 70% or above marks in their aggregate HSSC-I & II results announced by Board of intermediate & secondary Education of Pakistan in the year 2020.
4 - How to Apply
Following are two ways to apply into the NTHP program. You may apply through any one of method as per your convenience;
1. Online Method (Preferable and strongly suggested method)
Students who meet the below mentioned criteria are eligible to apply in the National Talent Hunt Program by filling the Online Application form available on our website i.e. http://talenthunt.iba.edu.pk
2. Manual Form submission
Those who are unable to fill-up the online application form can download the Manual Application Form and send it back by March 03, 2021 to the 'Director -Talent Hunt Program', IBA Main Campus, University Road, Karachi
5. What documents are required to apply for the National Talent Hunt Program ?
The following documents are supposed to attach with the application form:
1) Educational documents (Matric and HSSC I or II) [ Marksheets, certificates]
2) Copies of CNIC of father / guardian
3) Copy of CNIC / Form B of Applicant
4) Applicant or Father domicile certificate
5) Salary slip / Income certificate (or Pension slip) of all earning family members *
* Note: An income certificate is the document that shows monthly/annual income. If your parents/guardian is salaried, an original copy of a pay slip should be attached, otherwise if your parents/guardian owns a business they should submit an undertaking on a stamp paper/affidavit (of Rs.100) stating their income and with relevant details.
6. Is IBA's National Talent Hunt Program a Scholarship Program?
Those selected on merit and offered admission into BBA, BS (Accounting & Finance), BS (Social Sciences & Liberal Arts), BS (Computer Sciences), BS(Economics) and BS (Economics & Mathematics) degree programs will be considered for up to 100 % scholarship/arrangements of Qarz-e-Hasna against tuition fees & other facilities depending upon the need assessment of the student for the mentioned 4-year degree programs on the recommendation of IBA - Financial Aid Committee. Summer semester is not covered in scholarship.
7. Who can apply for this National Talent Hunt Program ?
Only those students who can establish their eligibility as above-mentioned criteria & genuinely deserving candidates.
8. I belong to rural area of my province, am I eligible?
Preference will be given to students from the rural areas of Sindh, Punjab, Balochistan, Khyber Pakhtunkhawa & FATA, Gilgit Baltistan and Azad Kashmir who are unable to apply for IBA due to financial constraints.
9. What is the procedure of selection?
- Selection Process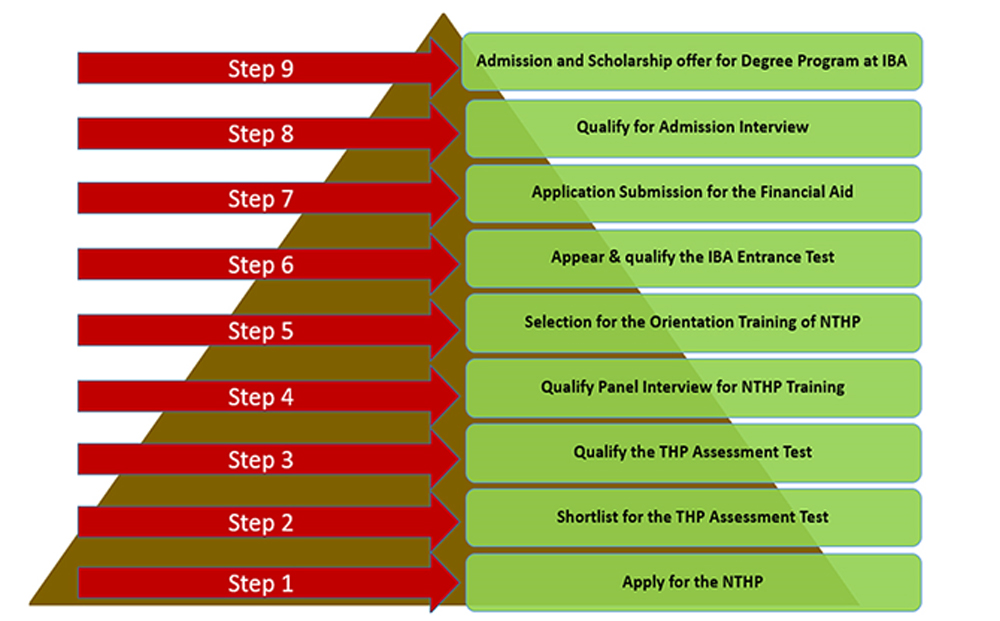 10. By when will the Interviews be scheduled?
Students who qualify NTHP assessment test and interview will have to fill the financial assistance form and submit (by courier) to THP office. Based on financial assessment students will be selected and invited for orientation Training.
11. Can students of General Science group apply in the National Talent Hunt Program ?
Yes. Students of all discipline can apply for the NTHP Program 2018. However, when applying for the IBA's entrance test, discipline matter. In IBA, there are six main disciplines BBA, BS(AF), BS(EM), BS(CS), BS(Economics) and BS(SSLA). For BBA, BS(Accounting & Finance), BS(Social Sciences & Liberal Arts), BS(Economics) program, students belonging to any group may apply but for BS(Computer Science) and BS(Economics & Mathematics) programs only students associated with Pre-Engineering or General Science (Mathematics) group can apply for the entrance test. For more details, refer the 'Program Announcement 2020-21 and visit the Admission Policies & Procedure Policies (page no. 28)
12. Which subjects should I study to be able to get through the Assessment test of NTHP Program?
You should mainly focus on matric and HSSC-I level Mathematics and English grammar and composition to appear in the assessment test if shortlisted. Refer topics mentioned on the website for guidance purpose
https://nthp.iba.edu.pk/nthp_test_preparation.php
13. Which books should I prefer for the entrance test of IBA?
You can study SAT - I (For BBA Entrance Test) or SAT - II (For BS Entrance test). Refer the following books
14. Will there be a separate IBA entrance test for NTHP Program students?
No, students of NTHP Program will give test with other applicants who come from all over Pakistan. It is a purely a merit-cum-need based program and there are no seats on Quota basis.
15. What is the criterion of short listing students for the NTHP Program?
All of the applicants of the NTHP Program are short listed on the merit-cum-need basis.
16. What subjects would be taught in NTHP Program?
We give training to the selected students in the following subjects which is based on two month:
English Grammar & Composition
Mathematics
Presentation & Communication Skills
17. In which campus of IBA, The NTHP Orientation classes would be held?
The Classes will be held at the IBA Main Campus from June-July 2021.

18. Who will fund the NTHP Program?
IBA-Ihsan Trust National Talent Hunt Program is a joint venture between IBA Karachi & IHSAN TRUST with the objective to select and prepare the deserving students from all the provinces of Pakistan for the IBA aptitude test. For donor's list please refer the link: http://nthp.iba.edu.pk/donors.php