Introduction
The IBA Ihsan Trust National Talent Hunt Program (IBA-IT NTHP) is a fully funded Orientation Training Program jointly financed by IHSAN TRUST and IBA Karachi. The program selects, grooms, and prepares talented students from Baluchistan, Khyber Pakhtunkhwa & FATA, Gilgit Baltistan, Punjab, Sindh and Azad Kashmir for the comprehensive admission process of BBA and BS degree programs in IBA Karachi. The Program is based on merit cum need consideration. The Orientation Training emphasizes on academic as well as personal grooming of the candidates while preparing them for professional excellence.

Ihsan Trust is a non-profit organization, established with the aim of providing financial assistance for various community building services and above all, Qarz e Hasna (Interest-free Loan) facility to the needy students seeking higher education in Pakistan.
Program Outline
1. Candidates successfully passing the assessment and selection process while also expressing interest in pursuing higher studies in Business Administration, Computer Science, Accounting & Finance, Economics & Mathematics and Social Sciences & Liberal Arts are encouraged and invited to participate in a two-month training program at IBA Karachi for preparation of the admission process (aptitude test & interview) into undergraduate degree programs.

2. Candidates selected for orientation training program will be provided free of cost training, boarding & lodging, stipend for the period of their stay, study material and one side train/bus ticket.

3. Training of following subjects & skills will be provided during orientation;

- English Grammar & Composition
- Mathematics
- Presentation & Communication

4. The orientation training will be conducted by selected IBA faculty, mentors and other trainers who have demonstrated expertise and experience in their respective fields.

5.Upon completion of the orientation training all the candidates will have to appear for IBA's Aptitude test for BBA/BS degree programs.

6. Candidates selected on merit and offered admission in BBA, BS (Accounting & Finance), BS (Social Sciences & Liberal Arts), BS (Computer Sciences), BS(Economics) and BS (Economics & Mathematics) degree programs will be considered for up to 100 % scholarship/arrangements or Qarz-e-Hasna against tuition fees & other facilities depending upon the need assessment of the student for the mentioned 4-year degree programs on the recommendation of IBA – Financial Aid Committee.


*Scholarship awarded does not cover summer semester.
- Selection Process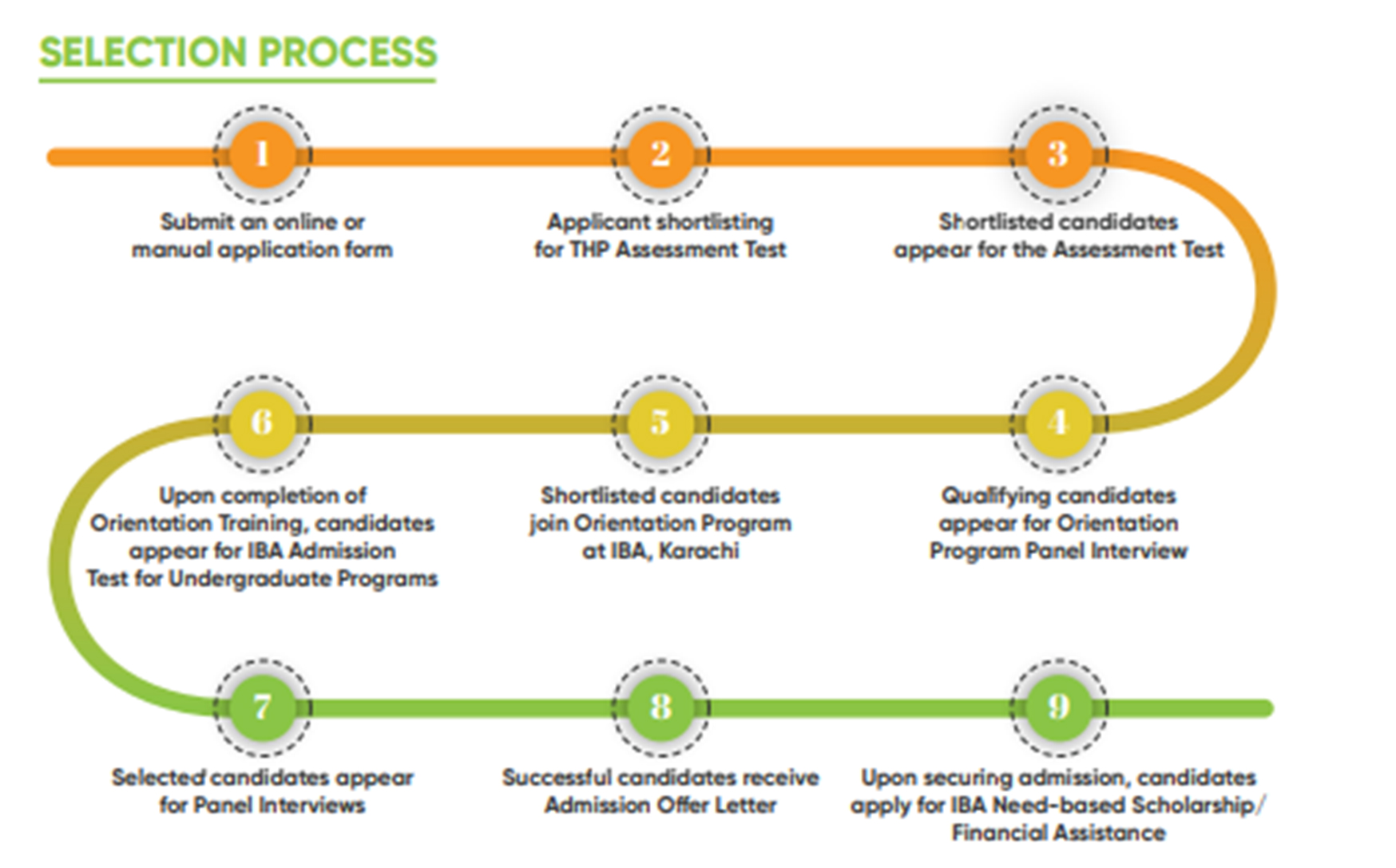 Why NTHP
The National Talent Hunt Program is the Institute of Business Administration's flagship program laid on the foundations of inclusivity, diversity and provision of quality education for all. The program aims to educate and train students who have performed exceptionally well in their Matriculation and Intermediate exams to receive undergraduate education at the IBA and become the leaders for tomorrow.
Education at IBA opens doors to upward social mobility with the talent becoming part of the active workforce or contributors to the social and economic development of the country.
To date, 250 candidates have successfully graduated from the Program, and are currently pursuing higher education or are performing tremendously in their careers.