Introduction
The IBA Ihsan Trust National Talent Hunt Program (IBA-IT NTHP) is a fully funded Orientation Training program jointly financed by IHSAN TRUST and IBA Karachi which selects, grooms and prepare talented students from Balochistan, Khyber Pakhtunkhwa & FATA, Gilgit Baltistan, Punjab, Sindh and Azad Kashmir for the comprehensive admission process of BBA and BS degree programs in IBA Karachi. The Program is based on merit cum need consideration. The orientation training emphasizes on academic as well as personal grooming and development and imparts skill set required for higher education.

Ihsan Trust is a non-profit organization, established with the aim of providing financial assistance for various community building services and above all, Qarz e Hasna (Interest-free Loan) facility to the needy students seeking higher education in Pakistan.
Program Outline
1. Those who has followed the due process of selection in the program and have expressed an interest in pursuing higher studies in Business Administration, Computer Science, Accounting & Finance, Economics & Mathematics and Social Sciences & Liberal Arts will be invited to participate in a two months training program at IBA Karachi for preparation of admission into BBA and BS degree programs.

2. Selected students for orientation training program will be provided free of cost training, boarding & Lodging, Stipend and study material.

3. Training of following subjects & skills will be provided during orientation;

- English Grammar & Composition
- Mathematics
- Presentation & Communication

4. The orientation training will be conducted by selected IBA faculty, mentors and other trainers who have demonstrated their proven abilities in their respective fields.

5. Upon completion of orientation training all the trainees will have to appear in IBA aptitude test for BBA/BS degree programs.

6. Those selected on merit and offered admission into BBA, BS (Accounting & Finance), BS (Social Sciences & Liberal Arts), BS (Computer Sciences) and BS (Economics & Mathematics), BS (Economics) degree programs will be considered for up to 100 % scholarship/arrangements of Qarz-e-Hasna against tuition fees & other facilities depending upon the need assessment of the student for the mentioned 4-year degree programs on the recommendation of IBA – Financial Aid Committee. Summer semester is not covered in IBA-IT NTHP.

7. Students covered under IBA-IT NTHP program will have to maintain CGPA of 2.5 and above to continue to receive their facilities. If their grades fall below this threshold they will be placed on probation, in case another opportunity of improvement in grades in their upcoming semester arises. In case they fail to improve their grades provided facilities may be withheld/withdrawn depending on case to case basis.
- Selection Process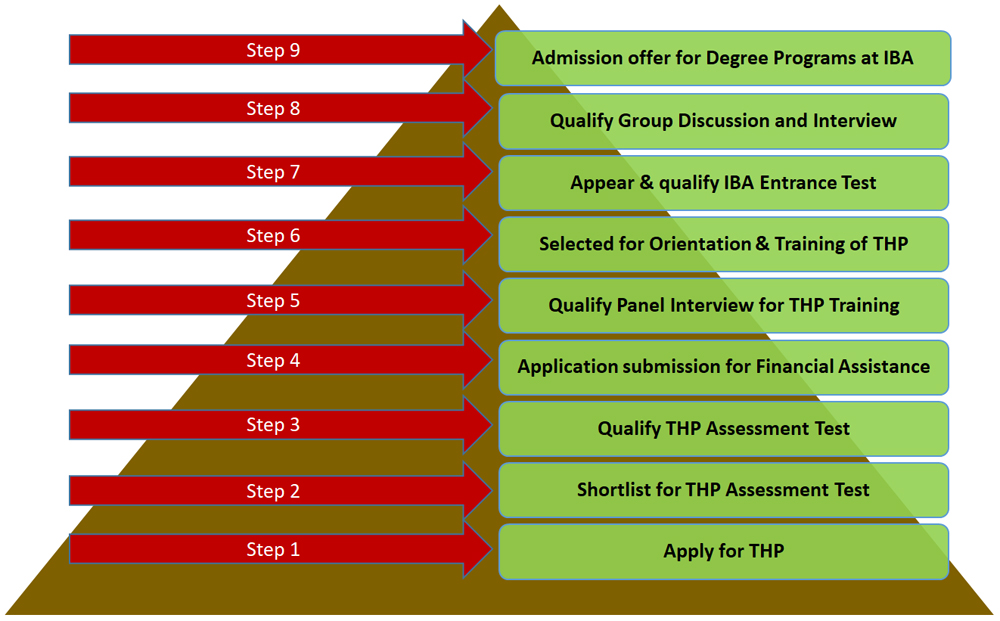 Why NTHP
NTHP provides comprehensive training for selection into BBA/BS Programs at IBA and awarded financial support to enable qualified students to complete their degrees.
Degree obtained from IBA opens the doors to managerial positions in the leading business houses and multinational companies, education at IBA can become a powerful income equalizing force and upward mobility force.