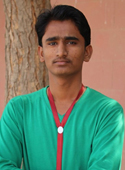 "STHP" this single word contains a whole dreamland in it.

It is an opportunity for the people like me, who without any financial support can never afford a study & stay in a prestigious institute like IBA.

During the two months THP session, I was introduced to the new realities; my priorities changed. In short, this training polished me thoroughly, and I was able to choose the right career path.

Coming to IBA was just like a dream to me, and now STHP provided the path to fulfill my dreams and to carve my destiny with my own hands. I especially want to thank CDP-GoS for providing me a priceless opportunity. I am grateful to Ma'am Zeenat Ismail and the whole THP team for giving other fellows and me such an excellent opportunity to study for an entire degree program at IBA Karachi.